Are you planning to upgrade your Toyota Tacoma? Look no further! This complete guide will help you find the most essential accessories that are must-haves for your beloved truck. Get ready to make your Tacoma look sophisticated and help it perform better with our list of the top 3 must-have accessories. You won't be disappointed!
If you've recently purchased a Toyota Tacoma, you're in for a great ride. The Tacoma is one of the most popular mid-size pickup trucks available today and it has plenty of customization options to fit any lifestyle.
From investing in the right engine and transmission upgrades to choosing various accessories, the Tacoma has everything you need for a unique driving experience.
This complete guide takes an in-depth look at some of the best Toyota Tacoma accessories that are sure to enhance your ride. We cover must-have exterior features like hood protectors, bug deflectors and fender flares as well as interior upgrades like seat covers and floor mats. With these essential components, your Tacoma will look good, drive smoothly and be protected no matter where the road takes you.
Exterior Accessories
It's time to add a personal touch to your Toyota Tacoma with some exterior accessories. From grill guards and light bars to cargo racks and bumpers, there are plenty of options that can help you make your pickup look as unique as you. Here's a complete guide to the must-have exterior accessories for your Toyota Tacoma.
Grill Guards: Grill guards are an essential accessory that not only protect the front end of your truck from any damage, but they also give it a rugged, off-road look. Depending on the material you choose, they can be installed quickly and easily with basic tools, requiring no drilling or cutting.
Light Bars: Adding a light bar not only adds style to your truck's exterior but also provides extra illumination when you're off-roading in low-light conditions. A variety of different sizes are available depending on your needs and they can be easily mounted to the windshield or roof of your Tacoma with the help of a few bolts.
Cargo Racks: Cargo racks allow you to store bikes, boats or other large items securely on top of your truck bed without sacrificing space inside it. They come in all shapes and sizes and can be fitted with extra lights for nighttime visibility. You may need some professional assistance installing this one due to its weight and size.
Bumpers: Bumpers offer additional protection against impacts from other vehicles or objects by absorbing shock before it reaches your truck's body panels or mechanical components underneath them. They make for great additions if you're looking for an extra bit of security while off-roading or driving around town.
Bed Cover
A bed cover is a vital accessory that provides superior protection and convenience for Toyota Tacoma owners. By covering the truck's cargo area, a bed cover helps to protect its contents from the elements and potential thieves.
Bed covers come in a variety of styles, including soft roll-up, hard shell folding and one-piece hinged covers. Bed covers provide enhanced security by locking into place when closed and they also offer improved aerodynamics. With some brands, you can even choose between several different colors to match the style of your truck.
Whether you're looking for maximum protection or just a clean look for your Tacoma, a bed cover will make an excellent addition to your pickup.
Bull Bar
When you're off-roading, a bull bar is a great accessory to have. Not only does it look awesome on your Toyota Tacoma, but the bull bar enhances your vehicle's protection on and off the road.
Bull bars are typically made from thick metal tubing and act as bumpers for your vehicle, providing extra protection from potential hazards such as animal collisions and low speed impacts. For added strength, a bull bar protects your truck's grill and radiator where they are most vulnerable.
Some styles of bull bars come with lighting mounts so you can add fog or LED lights. Make sure you understand the installation requirements and check that the bull bar is compatible with your specific model before purchasing one.
Fender Flares
Fender flares cover the edge of your Toyota Tacoma's wheels and give it a more aggressive appearance. In addition to transforming the look of your truck, they also provide valuable protection from mud, dirt, stones and other forms of road debris that can damage the bodywork.
Genuine Toyota Tacoma fender flares are made from tough impact-resistant ABS plastic, which ensures excellent durability. They also come with an array of mounting hardware designed to fit all models of Toyota Tacoma, making installation quick and easy.
When you want to give your vehicle a tough new look while protecting it from debris damage at the same time, installing genuine Toyota Tacoma fender flares is an ideal solution.
III. Interior Accessories
Interior accessories can be just as important for comfort and performance as exterior ones. From seat covers that protect against stains and keep your seats looking new, to floor mats that can easily withstand dirt and mud, interior upgrades for your Toyota Tacoma provide a practical way to personalize your vehicle. Whether you are wanting to make the interior of your Tacoma more comfortable or stylish, here is a complete guide to must-have accessories for the inside of your truck:
Seat Covers: Seat covers provide an easy way to keep the original upholstery in great condition. Available in a variety of styles, colors and materials, they can shield seats from normal wear-and-tear while adding an extra layer of comfort.
Floor Mats: Floor mats serve a dual purpose – they protect existing carpeting from water, dirt, mud and other contaminants while also providing extra padding for feet when driving. The majority of floor mats are made from rubber or synthetic polymer material and come with anti-sip backing material to ensure they stay secure while you drive.
Storage Solutions: Storage bins and cargo nets give you additional ways to store loose items on trips when there isn't much space left inside the cab. This keeps items organized during transport.
Dash Mounts & Accents: Dash boards typically come plain without any accessories or accents installed – but not anymore! Dash mounts let you customize your cab by holding devices such as phones, tablets and GPS systems securely via built-in ports or suction cups which affix directly onto dash boards without fasteners. Accents such as LED lights also add personality to any cab interior too!
Floor Mats
Floor mats provide a great way to protect the interior of your Toyota Tacoma. High quality floor mats can help to keep dirt and moisture from damaging the interior upholstery of your truck as well as providing a solid base for you to stand on.
Many styles are available to choose from, such as molded plastic, carpeted rubber or heavy duty vinyl, and there are many colours and designs to match your vehicle's interior. Finding the perfect floor mats for your Toyota Tacoma can be an important part of maintaining the quality of your investment.
Seat Covers
A quality set of seat covers can be a great investment for your Toyota Tacoma. They keep your seats protected from dirt and debris, reduce wear and tear on fabric and leather, add a layer of comfort, and give you a custom look.
When shopping for seat covers, consider features such as water resistance, durability, installation type (slip-on vs custom fit), colors and patterns. Depending on the material or style you choose, some sets may even be machine-washable for easy cleaning.
Since every driver's needs are different, it's wise to thoroughly evaluate all options before investing in seat covers that best fit your lifestyle.
Cargo Liner
One of the must-have accessories for your Toyota Tacoma is a cargo liner. A cargo liner is a waterproof and shock-absorbent material that lines the bed of your truck, protecting it from damage and keeping items you carry in the bed securely in place. It adds extra durability to the bed of your truck, making an ideal choice if you use it frequently for carrying heavy items or taking part in outdoor activities.
Cargo liners are made from durable materials like thermoplastic elastomer or rubberized compounds, so they will last even when put to use through tough terrain, extreme weather conditions and frequent loading/unloading activities. There are also special cargo liners designed to provide added protection for cargo carrying items like cars, or offer an additional layer of sound deadening for your vehicle.
Maintenance Accessories
Effective maintenance is one of the best ways to keep your Toyota Tacoma running optimally and making sure you don't end up with unexpected repairs down the line. Of course, you should be sure to keep up with regularly scheduled checkups and oil changes as needed, but there are some key maintenance accessories that can help preserve your vehicle over time. Here are some of the must-have maintenance accessories for any Toyota Tacoma driver.
-Tonneau Covers: Tonneau covers protect your cargo in all sorts of weather conditions while also maintaining a stylish look on the back of your truck. These covers come in a wide variety of shapes and sizes, so you're sure to find one that will fit your particular Tacoma model.
-Air Filters: Ensuring that your engine is getting fresh air facilitates a clean burn which will increase your gas mileage, as well as ensure that all other parts of your engine are running at peak performance. It's important to remember to regularly change out dirty or clogged air filters for optimal performance.
-Wheels: Though sometimes overlooked, the wheels play an important role in keeping the entire system balanced and ensuring safe travels on the road. You can choose from traditional or custom designed rims depending on individual taste and preference.
-Engine Oil: Motor oil helps lubricate every part within an engine in order to reduce friction which causes wear and tear over time if not properly lubricated with proper oil weight and viscosity levels; regular oil changes can extend an engine's life significantly . Additionally, it also helps cool components like pistons, rods and bearings while it disperses heat away from the combustion chamber so they receive cleaner gasoline vapors during combustion process which results in improved fuel economy and emission performance.
Oil Filter
The oil filter is an essential part of a proper oil change. It's designed to trap contaminants before they can enter your engine's vital components and cause damage. With the right filter, you can maximize the life of your Toyota Tacoma's engine by helping ensure it runs better and lasts longer.
When purchasing a filter, make sure to select one that's specifically designed for your model of Toyota Tacoma. Most likely, your choice will be a direct-fit filter – so you won't have to hassle with making any modifications to get it on. An alternative filter, such as a cartridge type, may require some additional steps for installation. Additionally, look for an oil filter with excellent filtration capability that meets quality standards from reliable brands such as Wix or Bosch – both good options for filters in the aftermarket industry.
You should also consider getting some other items to complement the oil change process such as new O-rings and gaskets, new washers and crush washers, an oil drain plug torque wrench tool set if needed and quality synthetic motor oil along with the correct viscosity rating for your vehicle's temperature range in order to ensure maximum performance and efficiency from your Toyota Tacoma.
Air Filter
An often overlooked part of your Toyota Tacoma's maintenance is the air filter. Replacing a dirty or clogged filter can improve your truck's acceleration and fuel economy while ensuring that the engine runs smoothly.
A drop in air filter, specifically designed for the Tacoma, can help keep your engine clean and ensure it runs optimally. It will also reduce air leakages and draw in more air for better combustion, resulting in improved performance and power.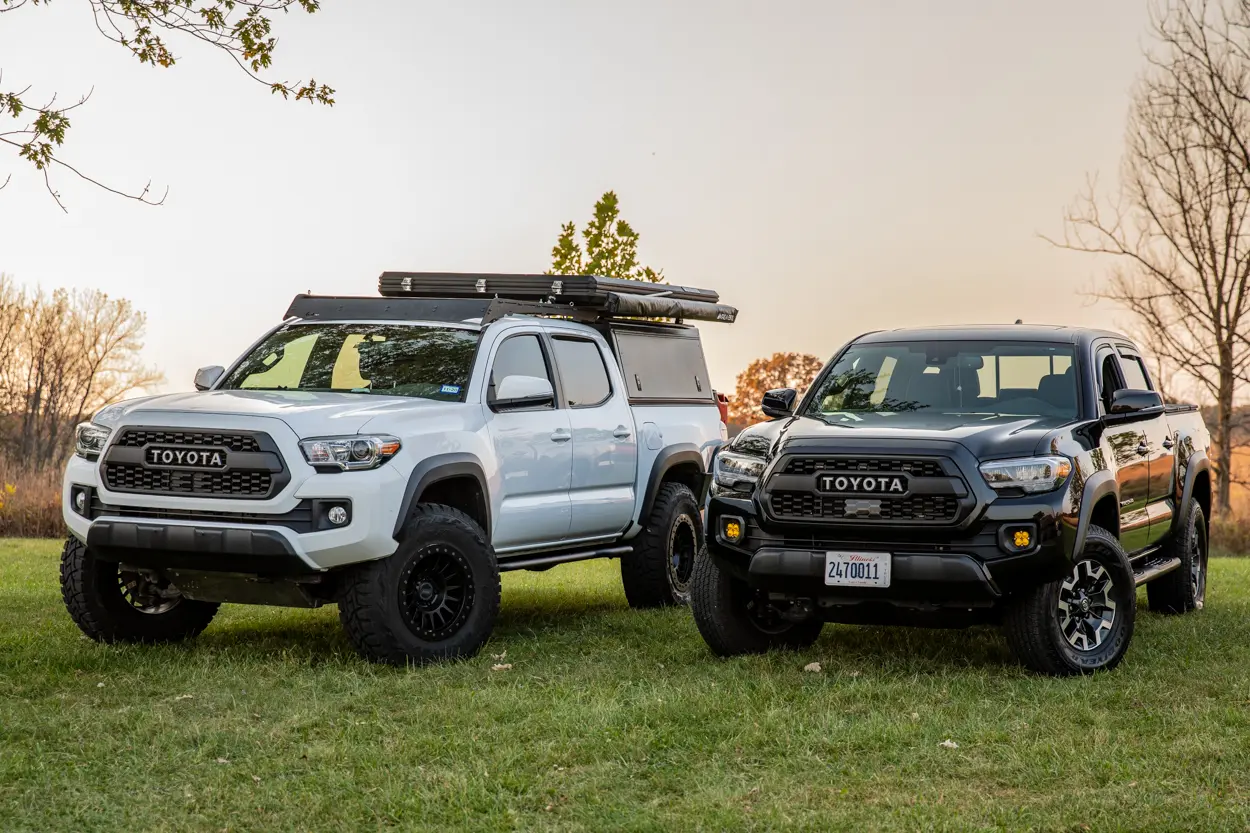 When choosing an air filter for your Toyota Tacoma, look for one that is specifically engineered to function with its V6 3.5 liter engine. Check to see if it includes any type of warranty or has been tested to meet strict OEM requirements. With proper maintenance, a quality drop-in air filter can last up to 20,000 miles between replacements.
Cabin Filter
Cabin air filters are an important accessory for your Toyota Tacoma. They prevent allergens and dust from entering the cabin when ventilating with outside air. Installing a cabin air filter in your Toyota Tacoma will improve the quality of the air inside your vehicle, while also keeping out pollen and other allergens that can cause asthma or allergy symptoms. Furthermore, they prevent dust and dirt buildup on interior surfaces, including the exterior heating and cooling system.
Cleaning or replacing your cabin air filters regularly is essential for maintaining high-quality interior air quality, as well as healthy operation of your HVAC system. When selecting a cabin filter for your Toyota Tacoma, look for one that fits properly into the housing unit and offers protection from pollutants such as dust, pollen, soot particles, and other airborne contaminants. Additionally opt for one that doesn't require frequent maintenance and can last up to 12 months before needing to be replaced.
Conclusion
In conclusion, when you are looking at outfitting your Toyota Tacoma with the best aftermarket accessories, it is important to consider what tasks you are hoping to complete with your truck and how you plan to use it. Quality accessories will provide more robust performance and better protection for your vehicle in the long run. Being able to choose from a variety of brands means that you can find something that meets both your style requirement and your budget.
Above all, the key is to make sure that the parts or accessories you purchase meet the specifications of your vehicle so that there are no surprises down the road. We hope this guide provides some direction and answers any questions or concerns you may have about outfitting or repairing your Tacoma. From bed liners, performance exhausts, and adventure-friendly lighting kits to lift kits, air intakes, and skid plates – there is no limit on how far you can take this all-terrain icon!
FAQ's
What should I add to my Toyota Tacoma?
It depends on your personal preferences and needs. Some popular additions include a lift kit, off-road tires, a bed cover, and upgraded audio system.
How do I make my Tacoma look more aggressive?
You can add a grille guard, fender flares, a hood scoop, and blacked-out trim to give your Tacoma a more aggressive look.
What is the most desirable year for Toyota Tacoma?
The 2015 Toyota Tacoma is considered the most desirable year due to its reliability, features, and overall value.
What is the most common problem with a Toyota Tacoma?
The most common problem with a Toyota Tacoma is rust on the frame, especially in older models.
How can I make my Tacoma sound better?
You can upgrade your exhaust system or add a cold air intake to make your Tacoma sound better.
Is the Toyota Tacoma noisy?
The Toyota Tacoma can be noisy, especially on rough roads or at high speeds.
Why is my Tacoma so loud?
There could be several reasons why your Tacoma is loud, including worn-out tires, a damaged exhaust system, or a faulty suspension.
How long do Tacoma engines last?
With proper maintenance, a Tacoma engine can last up to 300,000 miles or more.
How many years will a Tacoma last?
A well-maintained Tacoma can last up to 20 years or more.
Which Tacoma engine is best?
The 3.5-liter V6 engine is considered the best engine for the Tacoma due to its power, efficiency, and reliability.
See Also-