Struggling to find the best tires for your Ram 1500 2023? Don't worry! We've put together a complete guide that shows you the top tire options, so you can get the perfect fit for your truck.
You'll be ready to hit the roads in no time!
Best tires for ram 1500 2023
1) Yokohama MT G003 tires
The Yokohama MT G003 is a highly compatible light truck tire designed for 17-inch wheels. It is built to withstand the toughest terrains with exceptional durability and reliability. One of the key features of the Yokohama MT G003 is its low CO2 emission, making it an eco-friendly tire option for those looking to reduce their carbon footprint.The tire's tread pattern features aggressive blocks and shoulder lugs for enhanced grip and traction on muddy, rocky, and snowy surfaces. It also boasts superior puncture resistance and a longer lifespan, thanks to its advanced construction and materials.
Additionally, the Yokohama MT G003 provides a smooth and comfortable ride on both on and off-road conditions.Overall, the Yokohama MT G003 is an ideal choice for light truck owners who prioritize performance, durability, and sustainability. Its low CO2 emission and high compatibility make it a great option for environmentally conscious drivers, while its rugged design ensures excellent performance on any terrain.
2) GT Radial AT3 tires
The GT Radial AT3 is a tire designed with several features to provide a comfortable and efficient driving experience. One of its main features is the 3D chamfered design that helps to improve grip on both wet and dry surfaces. This feature allows the tire to maintain its stability even on uneven terrains, ensuring that the driver has better control over the vehicle.Another feature of the GT Radial AT3 is the 5 pitch design, which helps to reduce road noise. This feature is beneficial for drivers who prefer a quiet and comfortable driving experience.
The 5 pitch design works by minimizing the vibrations that cause noise, ensuring that the tire runs quietly.The GT Radial AT3 is also a dual-purpose tire, meaning it is suitable for both on-road and off-road driving. The tire has a durable construction that can handle rough terrains without compromising on its on-road performance.Overall, the GT Radial AT3 is a reliable tire with excellent features that offer a smooth, quiet, and comfortable driving experience.
3) Goodyear wrangler 115S tires
The Goodyear Wrangler 115S tire is a reliable and durable option for drivers seeking a high-performing tire for their vehicle. One of its key features is the nylon reinforcement, which enhances the tire's strength and durability, providing improved performance on both wet and dry roads. The nylon reinforcement also contributes to a longer lifespan for the tire, allowing drivers to enjoy their investment for an extended period.Another impressive feature of the Goodyear Wrangler 115S tire is its innovation. This tire is designed to provide drivers with an exceptional driving experience, thanks to its cutting-edge technology. It boasts a tread design that delivers superior grip and traction, providing confident handling in all weather conditions.
Additionally, the tire's noise-reducing technology ensures a quiet and comfortable ride.Overall, the Goodyear Wrangler 115S tire is an excellent choice for drivers looking for a high-quality, dependable tire that can withstand various road conditions. Its nylon reinforcement and innovative features make it a top contender in the tire market.
4) 116T XL NITTO tires
The Nitto 116T XL is an all-terrain tire with impressive features. Designed to handle any terrain, this tire delivers excellent performance on both rough and smooth surfaces. With a dual sidewall design, the Nitto 116T XL offers versatility and durability, allowing drivers to choose between two different sidewall designs based on their preferences.The all-terrain capability of this tire makes it perfect for off-road adventures, while its dual sidewall design provides a rugged look that complements any vehicle.
Its deep tread pattern ensures superior traction on slippery and muddy surfaces, making it a reliable tire for all weather conditions.In summary, the Nitto 116T XL is an excellent choice for drivers who need a tire that can handle any terrain. Its all-terrain capability and dual sidewall design offer versatility and durability, making it a reliable choice for any vehicle.
5) Goodyear Eagle 114 tires
The Goodyear Eagle 114 tires are designed with features that make them suitable for different driving conditions. The tires are engineered to prevent tread wear, which helps to extend their lifespan, making them a great investment. The 285mm size of the tires provides excellent handling and stability, delivering a smooth and comfortable ride. Moreover, the tires' traction on snowy surfaces is impressive, making them a reliable option for winter driving.One notable feature of the Goodyear Eagle 114 tires is their innovative design, which allows them to maintain their shape, even after prolonged use.
This feature is essential for preventing irregular wear, which can cause tire damage and reduce safety. The tires also have excellent tread depth, which helps to prevent hydroplaning on wet surfaces, ensuring optimal grip and control. Overall, the Goodyear Eagle 114 tires are an excellent choice for drivers looking for reliable, durable, and high-performance tires for different driving conditions.
6) Atturo 119V XL tires
The Atturo 119V XL tire is designed to provide reliable performance for SUVs and light trucks. One of its key features is the Oblique Lateral design, which enhances grip and stability in both wet and dry conditions. The solid patch technology promotes even wear and longer tread life, while the silica-based compound offers improved traction and braking performance.With a load capacity of 2998 pounds, this tire is capable of handling heavy loads without compromising on safety or durability. Its XL rating also ensures that it can perform well at higher speeds.
Overall, the Atturo 119V XL tire is a solid choice for drivers looking for a reliable and versatile tire. Its combination of innovative features and robust construction make it well-suited for a variety of driving conditions, from daily commuting to off-road adventures.
7) HankookDynapro 113T tires
The HankookDynapro 113T tires offer great performance and are built to last. Measuring 32.1 x 32.1 x 11.2 inches, they are suitable for a wide range of vehicles. The interlocking geometry of the tire ensures that the tread blocks interlock with each other, providing increased stability and improved handling. This feature also reduces the amount of noise and vibration that is produced when driving on the road.
The rib enhancement feature on these tires further improves their performance by providing extra grip on the road and increased traction in wet and slippery conditions. Overall, the HankookDynapro 113T tires are a solid choice for drivers who prioritize safety, durability, and performance on the road. With their superior interlocking geometry and rib enhancement features, they are sure to provide a smooth and reliable driving experience.
Best tires for ram 1500 2023-Complete Buying Guide
Are you looking to get the best tires for your Ram 1500 pick-up truck? We're here to help! This comprehensive buying guide provides useful information on tires that work best with the 2023 Ram 1500 model, including their specific features, performance levels and price ranges. We have also compiled a list of top tire choices from elite tire makers that are sure to meet your driving needs.
Photo Source : drivingpress.com
By taking a look into each tire's advantages and limitations, you will be able to find the perfect set of wheels for your vehicle. So, take a look at what we have below and get ready for an improved ride with high-quality tires!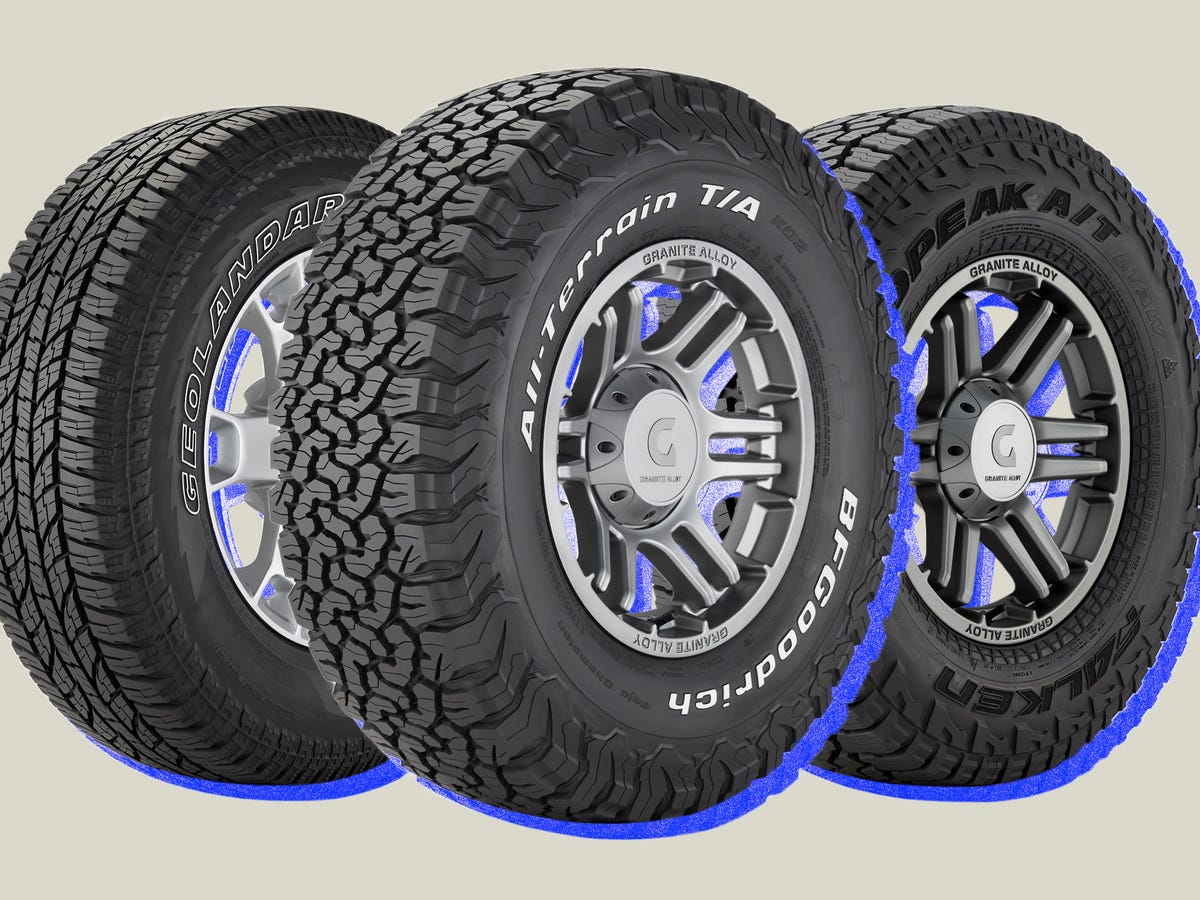 Photo Source : gearpatrol.com
Brief overview of Ram 1500 truck
The Ram 1500 truck is a full-size pickup with seating for three to five depending on the model. It offers two engine choices and multiple trim levels, so it's important to know what you need before buying. As with all vehicles, the tires you choose depend heavily on your needs and conditions in which you drive. Below is a brief overview of the Ram 1500 truck to help you select the perfect set of tires for your vehicle.
Ram 1500 trucks are equipped with either a 3.6-liter V6 gasoline engine or a 5.7-liter V8 gasoline engine. Both engines provide responsive acceleration and plenty of power for handling large loads, but it's important to consider acceleration capabilities when selecting tires since heavier tires can affect acceleration time, especially when paired with larger engines like in the Ram 1500 truck. The V6 can get up to 18/25 mpg, while the V8 gets up to 17/23 mpg – both good numbers for mid-size pickups; however, if fuel efficiency is one of your key considerations, stick with lighter tire options that won't weigh down your vehicle and affect its MPG rating too severely.
The Ram 1500 also comes in two cab sizes – two door regular cab and four door crew cab – as well as rear wheel drive or four wheel drive configurations so make sure to take into consideration any specific traction needs required by these variables when picking out tires. Tires also come in different sizes (15 inch all the way up to 22 inch) that offering varying levels of speed ratings and load carry capacities along with different tread designs that enhance comfort or off-road capability depending on what best fits your uses for this truck.
In addition, some vehicles like this one may require wheel balancing beyond just switching out tire brands; so when changing sizes be sure to double check requirements for wheel balance techniques such as machining or dynamic balancing and make sure any shop you take it too has an up-to-date machine capable of preforming these more accurate turning types for proper tire wear performance over time as either would save future headaches down the road from excessive wear due improper balancing from an old machine or from improper weighting on each wheel hub due carelessness by someone while performing static balance procedures instead.
Importance of selecting the right tires for Ram 1500
Having the right tires for your Ram 1500 can make a significant difference in vehicle performance. When selecting tires, it is important to consider factors such as speed rating, load rating, overall size and tread pattern. High-performance vehicles like the Ram 1500 require premium side walls, narrower tire widths as well as dedicated low profile frame designs; all aimed at achieving maximum safety and stability while cornering or coasting on dry highways.
Tires that feature a good tread life can impact the overall performance of your vehicle positively, keeping them responsive even when wet and providing a quieter ride on rough terrains. All-season tires are designed to maximize performance in both the wet and dry seasons, providing balanced levels of grip with an improved level of grip control during cornering or accelerating on slippery surfaces.
Furthermore, for improved braking distances when reducing speed in wet conditions or during extreme cornering forces select tires featuring reduced heat build-up in the sidewalls with specific tread pattern to evacuate water away from contact patch easily; this ensures increased safety when driving through monsoon-like conditions eases off unwanted vibrations from extended mountain escapades.
Factors to Consider When Buying Tires for Ram 1500
When shopping for tires for your Ram 1500, there are certain considerations you should keep in mind to ensure that you get the best tires for your particular needs. Knowing the size of your vehicle's wheels, understanding tread types and patterns, and considering other factors such as performance and tread life will help you make an informed purchase. Additionally, researching different brands is important so that you can select the tire that is right for you.
Vehicle wheel size: Wheel size is always the first determining factor when selecting tires, as the correct tire size ensures a proper fit on the wheel's rim; failure to do so could dangerous consequences in terms of steering control or a abrupt tire failure due to improper fitment at high speed. Always double check your wheel and tire sizes prior to purchase.

Tread types and patterns: All-terrain, mud terrain or highway type tread designs are these days all considered popular on most vehicles; although some highly specialized tread types may require an individualized approach when selecting a matching tire set. All-terrain will provide most flexibility across various surfaces while mud terrains will give extra grip off-road but may lack stability at highst speeds or subpar road noise levels compared to highway type tires; this choice depends heavily on how each owner plans to use their vehicle.

Performance features: Most modern tires come equipped with overlapping features such as better hydroplaning resistance and even snow traction — depending on certain regional requirements such as snow rating requirement seen in more northern climates; each driver should be aware of what kinds of performance features they require from their tire set no matter their normal use habits.

Treadwear estimates: Many modern light truck tires come with an estimated wear life defined by mm/km conditions (miles); tread wear can typically provide good reference regarding relative value amongst different brands of same sized tires within same segment market applications; it does not always indicate real world experiences however — which might contradict those estimates due sudden impacts (potholes) or incorrect PSI levels in day by day use scenarios so it should be used only as general indication comparison guide rather than alibi when selecting a final choice between two tire models offered by same brand/manufacturer during shopping process.
Size of tires
The size of your tires is probably the single most important factor in finding the right type of tire for your Ram 1500. Your new tires need to match exactly what came on your truck from the factory. Your vehicle's original tire size should be stamped on its sidewall, as well as on a label inside the driver's door or glove compartment.
The typical tire code for Ram 1500 trucks reads P225/XXR XX/XXS and may also appear with an M+S (Mountains + Snow) designation for all-weather usage. Factors such as load rating, speed rating, UTQG rating, and number of plies will vary depending on which brand and model you choose.
Tire sizes that can be installed on Ram 1500 trucks range from 31-inch diameters up to 35-inch+ depending on wheel width. When upgrading your wheels also keep in mind to factor in overall ride comfort, handling characteristics and fuel economy depending upon how "aggressive" you plan to go with your wheel size upgrade. For stock wheel sizes pay attention to the load ratings associated with each tire to ensure you are getting maximum protection for your Ram 1500 truck.
Type of terrain and weather conditions
Depending on the type of terrain and weather conditions you're likely to face, you'll want to select the appropriate tires for your RAM 1500.
Pavement-oriented Tires: If you drive mainly on paved roads and don't go off-roading, consider tires designed specifically for wet traction, improved cornering, reduced rollover resistance, and enhanced overall ride comfort. These tires may have innovative tread designs and advanced rubber compounds engineered to provide superior grip in colder months or under hard braking.
Mix-terrain Tires: Mix-terrain tires are a good choice if your RAM 1500 will be exposed to a variety of surfaces such as dirt roads, mud trails, occasional snow/ice and pavement. They're designed to handle unpredictable terrain while providing excellent wet traction; they also have larger tread blocks providing more stability when going off road or helping with acceleration or braking on pavement.
Extreme-terrain Tires: If hardcore off-roading is in your future (e.g., rock-crawling through deep mud), opt for all-terrain tires that feature aggressively large tread blocks with side biters for added grip in extreme situations (such as ice). Additionally, these tires often feature chunky lugs made from an advanced rubber compound that's durable enough to resist punctures from rocks even at low pressures—the tradeoff being extra road noise when driving on pavement.
Tread pattern
The tread pattern on a tire is the grooves and patterns cut into the rubber which serve to increase traction, provide stability, and prevent hydroplaning. Every model of tire for the Ram 1500 in 2023 will have its own unique tread pattern that offers a specific mix of grip, comfort and long-term durability.
When selecting the best tires for your new truck you should take into account the type of driving you plan on doing most frequently. If your daily commute consists mostly of highway miles then look for a tire featuring an asymmetric tread pattern with wide channels that help expel water and slush, such as the Michelin CrossClimate+. These tires are also suitable in light snow thanks to their 3-D sipes that further improve grip.
For off-roading a more aggressive tire with larger, deeper lugs is ideal; Michelin LTX A/T2 tires offer maximum traction in mud and snow without compromising on road manners when back on pavement. On dry roads an All Season tire offering optimized handling performance like Continental's ProContact TX makes a good choice; these tires feature twin steel belts backed by reinforced sidewalls for added stability at higher speeds.
III. Types of Tires for Ram 1500
When shopping for new tires for your Ram 1500, you'll have a few different types to choose from. Each type has its own advantages and disadvantages, so it's best to consider all of your options before making a final decision.
Touring All-Season Tires: These are great for everyday use and are designed to provide long treadwear and excellent traction in wet and dry conditions. They offer a comfortable, quiet ride, and good fuel economy.
High Performance All-Season Tires: If you're looking for better turning ability, superior cornering grip, and more responsive steering control on dry roads, these tires are ideal. They come with shorter tread life than touring tires but give you better performance in the city or on the highway.
All-Terrain Tires: If you prefer off-road driving and need added traction on mud or sand, these are your go-to tires. They are designed to provide excellent traction over various terrains such as dirt roads or rocky pathways. Be sure to check local regulations when using them off-road as some areas do not allow All Terrain tires
Winter Tires: If you live in an area that experiences a lot of severe winter weather such as snow or ice, these specialty tires can make driving much easier during the cold months. Winter tires come with special sipes that allow them to cut through snow to help you maintain better traction when driving over icy surfaces or packed snow.
All-terrain tires
When looking for tires for your Ram 1500, all-terrain tires are an increasingly popular option. These are designed to improve handling in multiple off-road and on-road conditions while extending tread life. All-terrain tires will provide better traction than highway tires in wet or wintery conditions. They are also commonly used on pickup trucks due to the increased stability they provide when hauling heavy cargo. They are usually constructed with protective sidewalls to resist punctures, wear, and abrasion which helps increase their longevity.
When shopping for all-terrain tires, keep an eye out for features like wider tread blocks (or lugs) that help in off-roading conditions as well as deeper tread depth for improved control and traction on dry surfaces. Look for tires with special compounding agents like silica or carbon black that offer improved wet weather traction capabilities. Multi-directional sipes provide more dry grip as well as help address hydroplaning by channeling away water from the contact patch of the tire.
Mud-terrain tires
Mud-terrain tires are specifically designed for use on off-road terrain and may provide better traction than all-terrain tires, but at the cost of increased road noise and lower fuel efficiency. Mud-terrain tires typically consist of a deeper tread pattern with large gaps that allow for greater traction in muddy or sandy surfaces, however the deeper depth also creates more resistance while driving on paved roads, leading to reduced fuel economy.
When selecting mud-terrain tires for your Ram 1500 2023, you should consider various points such as price range, load rating, speed rating and tread life warranty.
Popular mud-terrain tire options include the BFGoodrich All Terrain T/A KO2, Cooper Discoverer M+S ST Maxx and Goodyear Wrangler DuraTrac. These tires offer good grip in wet conditions with enhanced sidewall protection from punctures and cuts with deep tread grooves that help resist hydroplaning due to features such as aggressive shoulder blocks that improve cornering performance.
When choosing a particular tire model make sure to consult your local tire expert or certified installer who can best advise you on fitment and purchasing recommendations specific to your needs.
Highway tires
Wide base Highway tires, or H tires, are ultra high performance tires designed for speed and handling. They feature a wider tread design that provides greater contact with the road at higher speeds. H tires typically have deeper treads than other tire types, which boosts their gripping power and overall performance — especially when driving on wet roads. The bigger sidewalls also promote greater lateral stability in cornering.
H tires offer excellent performance in all situations but often provide increased wear on heavy-duty vehicles due to their more rigid construction, higher speeds and increased torque. If you have a full-size Dodge Ram 1500 pickup truck – one of the most popular full-size options on the market – you should consider investing in wider base highway tires to get the best performance out of your vehicle while protecting its value over time.
Below is an overview of some of the top rated wide base highway tire brands for Dodge Ram 1500 trucks from 2023:
Goodyear Assurance TripleTred All-Season

Michelin Premier LTX All Season Tires

Pirelli Scorpion Verde All Season Plus Tires

Firestone Destination A/T All Season Tires

Continental CrossContact LX Sport All Season Tires
Conclusion
In conclusion, choosing the best tires for a Ram 1500 rests in understanding the type of ride and performance you are looking to get out of your Ram. It also depends on your budget and location as well. All-season tires are ideal for those who want a smooth ride paired with a low cost option, while performance tires provide better grip and handling, although at the expense of comfort. Finally, all-terrain tires are best suited for their intended purpose; off-road driving.
No matter which tire you choose, it is recommended that they be swapped out on a regular basis to ensure the safety of yourself and your passengers on the road. Additionally, always ensure that your new tires are balanced and aired properly before each long drive trip. With research, some comparison shopping, and proper maintenance after installation, you can pick out a set of tires that will keep moving in the right direction for years to come.
FAQ's
What tires come stock on Ram 1500?
The specific tires that come stock on a Ram 1500 can vary depending on the year, make, and model of the vehicle. However, some common tire options that have been used as original equipment on Ram 1500 trucks include Goodyear Wrangler, Michelin LTX, and Bridgestone Dueler tires.
Will 2023 Ram be redesigned?
As an AI language model, I do not have access to information about future vehicle redesigns. However, it is common for automakers to make updates and changes to their vehicles on a regular basis, so it is possible that the 2023 Ram could receive some design changes or updates.
How long should Ram 1500 tires last?
The lifespan of tires on a Ram 1500 can vary depending on a number of factors, including driving habits, road conditions, and tire maintenance. Generally, most tire manufacturers recommend replacing tires after 6 years, regardless of the amount of tread remaining. However, with proper care and maintenance, some tires can last up to 10 years.
What brand of tire does Dodge use?
Dodge is a subsidiary of Fiat Chrysler Automobiles (FCA), which uses a variety of tire brands as original equipment on their vehicles. Some common tire brands used on Dodge vehicles include Goodyear, Michelin, Bridgestone, Continental, and Pirelli.
Which tires have the longest life?
There is no one tire brand or model that can be definitively said to have the longest life, as the lifespan of a tire can vary depending on a number of factors. However, some tire brands that are known for their longevity include Michelin, Goodyear, and Bridgestone.
How often should you rotate tires on a Ram 1500?
Most tire manufacturers recommend rotating tires every 5,000 to 7,500 miles to ensure even wear and prolong the lifespan of the tires. However, the specific recommended interval for tire rotation on a Ram 1500 can vary depending on the year, make, and model of the vehicle.
Which truck tires last the longest?
Like passenger car tires, the lifespan of truck tires can vary depending on a number of factors. However, some tire brands that are known for their longevity on trucks include Michelin, Goodyear, Bridgestone, and Continental.
Do tires last longer if you drive slower?
Driving slower can help reduce the amount of wear and tear on tires, which can potentially extend their lifespan. However, other factors such as road conditions, tire maintenance, and driving habits can also play a role in how long tires last.
Are tires good after 7 years?
Most tire manufacturers recommend replacing tires after 6 years, regardless of the amount of tread remaining. However, with proper care and maintenance, some tires can last up to 10 years. After 7 years, it is important to have tires inspected by a professional to ensure they are still safe to use.
Do tires last longer with more or less air?
Tires should be inflated to the recommended pressure listed in the vehicle owner's manual or on the tire itself. Overinflating or underinflating tires can cause uneven wear and potentially shorten their lifespan. Therefore, it is important to maintain proper tire inflation to ensure maximum tire life.