Are you looking to spruce up your GMC Sierra while protecting its interior? You've come to the right place! We'll guide you on how to select the best seat covers for your vehicle based on materials and styles.
For decades, the GMC Sierra has been one of the most popular and reliable trucks on the market. It is known for its durability, comfort, and versatility. However, no matter how tough and comfortable your seat materials are originally, long-term wear and tear can take a toll. To protect your Sierra's seating from dirt, spills, fading from sunlight exposure, and other wear and tear issues, nothing beats custom-fit seat covers.
Whether you own an older model or a newer model Sierra truck, there's a wide array of options when it comes to selecting seat covers that provide both comfort and protection. Different fabric types may feature different levels of breathability and cushioning properties—cotton blends versus genuine leather; canvas versus synthetic suede; neoprene versus synthetic felt; waterproof versus stain-resistant. And colors are available in many different hues; you can either choose to bring out details in your interior décor or look for something that stands out on its own with complementary colors or contrast designs. Whether you're looking for a classic style or something bolder to emphasize your truck's personality through vibrant colors—from mulberry red to bright yellow—there are plenty of possibilities that will make your vehicle feel even more like your own!
Materials for Seat Covers
When selecting seat covers for a GMC Sierra, the material is an important factor to consider. It impacts the quality and durability of the covers, as well as their aesthetic appeal. Most seat covers come in one of four standard materials, though there are other options available:
Tweed: Tweed has a classic look that brings both comfort and style to your car's interior. It comes in various colors and can be insulated when necessary for added protection from winter weather. The downside is that tweed may make your car or truck appear dated or "old-fashioned" depending on the style you chose.

Neoprene: Neoprene seat covers provide waterproofing and insulation from extreme temperatures both HOT and COLD, making them perfect for an active lifestyle. However, they are often considered too bulky by some drivers and don't provide as much customization as other materials do when it comes to color or pattern selection.

Leather: Leather is generally considered the Cadillac of seat cover materials due to its luxurious look and feel as well as enhanced durability when compared to other fabrics. It's also very easy to clean (just wipe it down with a damp cloth!). Plus, it adds value to your vehicle when you trade it in one day! Unfortunately, leather also has its downside – namely price point – as prices can be quite high compared to other options available on the market today.

Cloth: Cloth is usually less expensive than leather but still offer exceptional quality depending on its composition (ie polyester blend). The benefit here is that fabric colors can easily be switched out allowing you more customization opportunities based on any current trends you may want incorporate into your Sierra's interior decorating scheme; however since cloth offers little protection from extreme temperatures it may not be best suited for cold climates especially during winter months where snow/ice could damage its fibers quickly rendering them useless in short periods of time.
Leather
Leather seat covers are a timeless classic that bring a touch of elegance and luxury to any GMC Sierra. They provide superior protection against everyday wear and tear, as well as protection against spills.
Leathers come in a variety of colors and finishes to match the style of your truck's interior, such as cowhide, suede, or distressed leather. They are also exceptionally durable and can easily last for many years with proper care.
The downside to leather is that it requires regular maintenance to keep it looking new, including using special cleaning solutions and conditioners. Leather seat covers can also be significantly more expensive than other materials, so it may be beneficial to shop around for the best deals if you're on a budget.
Neoprene
Neoprene is the most popular material for GMC Sierra seat covers. It is strong, durable and able to resist stains, abrasions, moisture and wear.
Neoprene is a synthetic rubber material which gives it a soft, comfortable feel. It also has the ability to stretch, making it ideal for covering seats with varied contours and shapes. Neoprene also comes in many colors and textures enabling you to choose any look you want for your truck's interior.
Depending on the brand of cover you purchase, some neoprene covers even come with side airbags sewn into them for added safety protection!
Vinyl
Vinyl is often considered the least expensive option when it comes to seat covers, making it an attractive choice for those on a budget. While some vinyl seat covers are made with a Carbon Fiber finish, these covers generally lack the same breathability as fabric and neoprene options. Additionally, they provide little to no protection against fading due to UV exposure.
Vinyl seat covers are easy to clean by wiping them down with a damp cloth and warm water but may require a special cleaner to remove tough stains. If you're looking for an inexpensive way to protect your vehicle's original upholstery that requires minimal maintenance over the years, Vinyl is your best bet.
Styles for Seat Covers
Seat covers can come in a variety of styles, allowing you to customize your car's interior according to your preference. The most popular style for GMC Sierra vehicles are the universal-fit seat covers. This type of seat cover fits over the seat and provides complete coverage from the headrest to the bottom cushion. These covers are made from either a vinyl or polyester material, and can be found in a wide variety of colors and sizes to fit any need.
Another popular option for GMC Sierra vehicles is neoprene seat covers. Neoprene is a thicker material, usually about 1/4″ thick, making it durable and ideal for protecting against spills and dirt. These covers are also water resistant, making them perfect for active lifestyles or harsh weather conditions. Neoprene seat covers come in multiple designs that allow you to choose a look that best suits your style, such as camouflage printed neoprene or plain black neoprene seats.
Finally, there are leather seat covers that can spruce up the look inside your truck or SUV without sacrificing comfort or protection features. Leather covers provide durability while still offering softer touches that other materials cannot match. Leather seats come in various colors that are easy to clean but still provide an elegant look inside your vehicle's interior space.
Custom-fit Seat Covers
Custom-fit seat covers are tailored exactly to the specifications of your GMC Sierra; this means they will fit perfectly and hug your seat. Custom-fit seat covers come in a variety of materials, including both OEM (original equipment manufactured) fabric and aftermarket options.
OEM fabric is designed specifically for use on trucks like the GMC Sierra, so you can be sure that it will fit your vehicle well and offer optimal protection from wear and tear. Aftermarket fabrics may range from leather to canvas, denim, synthetic suede, cowhide leather, sheepskin leather, ballistic nylon, tweed fabric and many more. Aftermarket materials often offer a wider range of design choices in terms of color and style.
Not only are custom-fit seat covers made to fit your vehicle model precisely; they also provide superior protection against UV rays that can damage the upholstery over time. Additionally, they allow you to put your own personal stamp on the interior of your vehicle; this could make all the difference if you are looking for an element of uniqueness within the confines of your car's cabin!
Universal-fit Seat Covers
Universal-fit seat covers are an economical option to protect the interior of your GMC Sierra and can be installed in any model year. Unlike custom-fit seat covers, universal-fit covers come in a variety of standard sizes that are designed to fit most standard bucket seats.
Most universal-fit seat covers are made from polyester or polycotton blends that are lightweight and durable, and many include features such as ventilated mesh fabric for comfortable, breathable seating in hot weather. Additionally, many universal-fit seat covers come with headrests and matching armrests for enhanced seating comfort, as well as adjustable straps for improved fit.
There are also numerous design options available including solid colors, classic tweed patterns, prints featuring wildlife or sports teams' logos and more for a look that is sure to reflect your personality.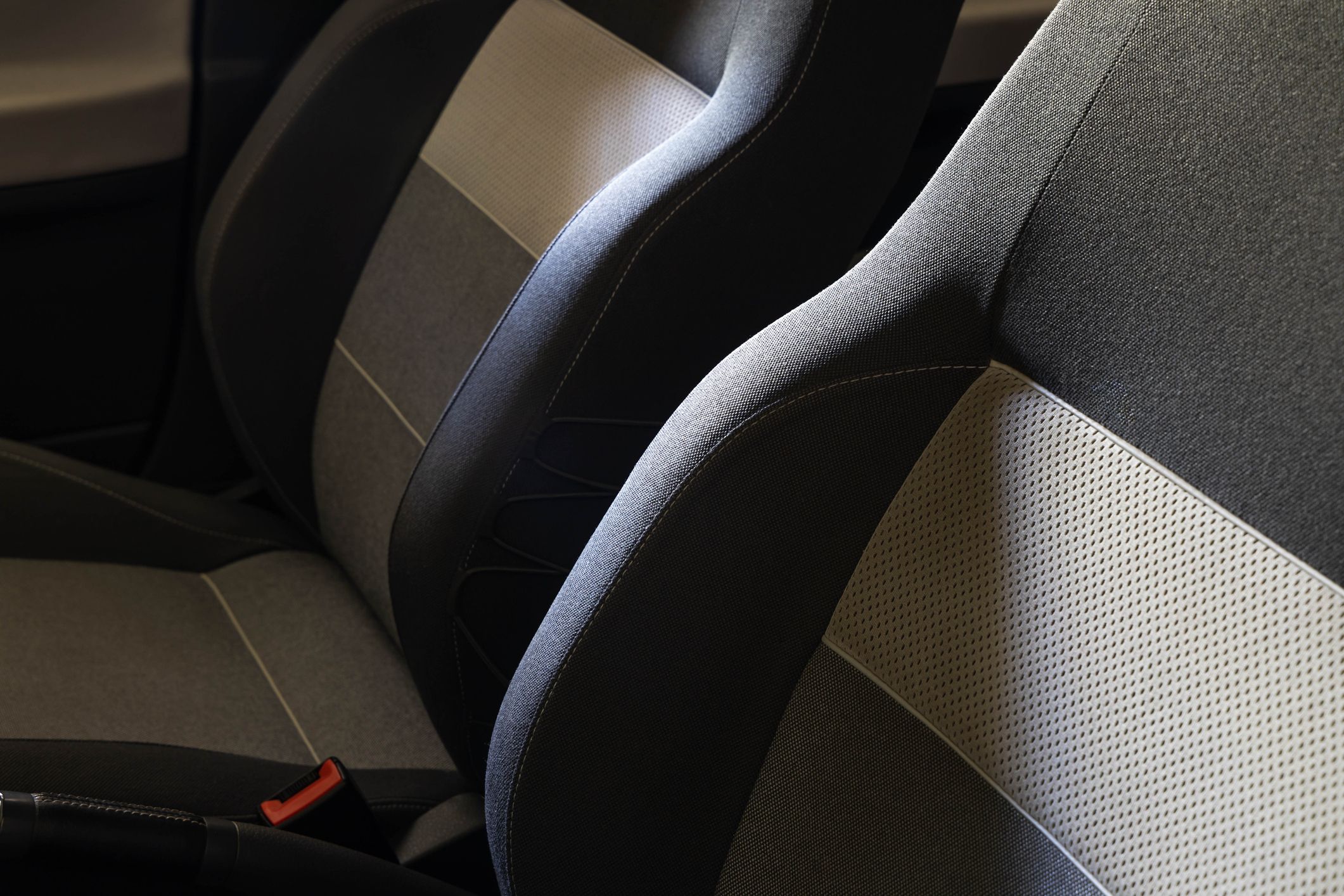 Bench Seat Covers
For the GMC Sierra, bench seat covers are available in split and/or solid styles, as well as in both fabric and vinyl. Bench seat covers are designed to fit the contours of your truck's bench seats and feature reinforced seams for added strength and durability.
If you're looking for increased comfort and luxury, fabric seat covers will provide these features without sacrificing protection for your seats beneath. Available in a variety of colors and materials, from plush velour to stylish leather-like vinyls, bench seats covers have a tailored fit that is sure to accentuate your interior. Furthermore, all fabrics are pre-treated with Scotch-guard™ Protector® before they leave the factory, so you can rest assured that they will stay cleaner longer.
Vinyl seat covers offer performance and durability perfect for spills or rough use common with work vehicles or running errands. Vinyl too is pre-treated with Scotchguard Protector before being shipped; however its waterproof finish also helps keep spills off of your upholstery beneath. Like their fabric counterparts, vinyl seat covers come equipped with reinforced seams along with contrasting color accents that easily coordinate with existing upholstery colors of most GMC Sierra models.
Factors to Consider
When selecting the perfect seat covers for your GMC Sierra, there are a variety of of factors to consider. Some of those include:
1) Material: Seat covers come in a wide range of materials, from breathable fabrics such as neoprene to waterproof vinyl for extra protection. Each material varies slightly in terms of care instructions and duration of use before replacement, so it is important to weigh up the pros and cons when making your choice.
2) Style: Seat covers come in a variety even styles to suit individual tastes – from sleek, modern designs with contemporary lines to rugged designs with added detailing and customized looks. Custom-fit seat covers are also available which are tailored precisely to fit all parts of your GMC Sierra's seats, both front and back.
3) Color: With so many color options available, you can match your seat cover choice with the existing interior design or create a whole new look for your vehicle. Whether you are looking for an inconspicuous shade or an eye-catching addition to your Sierra's interior, there is sure to be something that meets the criteria.
Durability
When choosing the right seat covers for your GMC Sierra, durability is a key consideration. The last thing you want is to go through the trouble of selecting and installing seat covers only to find that they are not long lasting. Choose seat covers made from the most durable materials that can withstand daily wear and tear and provide comfort to you and your passengers.
Popular materials include leather, neoprene or other synthetic leather varieties, and fabric with a waterproof barrier or treated surface for additional protection from spills or stains. The most common fabric choices for seat covers on GMC SIerra's are polyester, faux leather, canvas, mesh, and denim. You also want to look for covers made with double stitched seams for added strength. This will ensure that the covers fit snugly over your seats without any bunching up over time.
Comfort
When shopping for seat covers for your GMC Sierra, comfort is key. Look for covers that feel soft to the touch and provide a cozy, but not overly dusty or slippery surface for long road trips or daily driving.
You can choose from different types of fabrics such as neoprene, foam-backed vinyl, leather-look microfiber, and more traditional cloth. Neoprene is water-resistant and provides good breathability, while foam backed vinyl offers a softer surface and is a popular choice among truck owners. Leather-look microfiber also looks great in any interior and provides an extra level of cushioning for those longer drives.
Finally, traditional cloth seat covers are another popular option that look great in any Sierra and are highly customizable with a variety of patterns and hues to choose from. For mixed materials such as tweed or corduroy you may have the chance to create something totally unique that no other Sierra owner has!
Ultimately the choice depends on your comfort preferences, so make sure you try out different materials before deciding on one!
Maintenance
Taking proper care of your GMC Sierra's seat covers will extend their lifespan and keep them looking great. The types of materials used in upholstery affect the maintenance needs, so it's important to understand the different fabrics and finishes offered when choosing covers for the interior of your vehicle.
Leather: With leather, proper maintenance is key. Regularly applying a leather conditioner will help keep it in top shape, and dusting it regularly with a microfiber cloth will help to keep dirt from embedding itself into the leather's textures. If a spot does occur, you should use a gentle detergent and water solution spray on the cloth first before applying to the affected area – then wipe dry with another soft cloth afterwards.
Vinyl: Vinyl is much more resistant to staining but still needs some careful upkeep to make sure its glossy finish remains intact – unlike with leather, there's no need to apply conditioners or oils to vinyl seats. A damp cloth works perfectly for regular cleaning, while heavier soiling can be addressed using a diluted detergent solution (the same as you would use on leather). For tough spots such as adhesive residue, you may need something even stronger like mineral spirits or WD-40.
Fabric: Fabric upholstery is generally easy to care for; regular vacuuming with an attachment designed for upholstery will remove dirt that falls under the seat coverings; then spot treat any stains that appear with gentle peroxide or vinegar-based cleaning solutions before blotting dry with a soft microfiber cloth. Most fabric covers feature stain-resistant finishes which make them difficult to damage in normal use – however you can boost this protection by applying a protectorant spray once every few months or so.
Conclusion
It can be a daunting task to select the best seat covers for your GMC Sierra due to the availability of a wide range of materials and styles available in the market. We hope that this guide has provided you with an understanding of the differences between various cover materials and their respective benefits, as well as how to decide which style would fit best for your needs. Consider factors such as durability, protection level, temperatures, climate control features, color/design patterns and ease of cleaning when choosing seat covers for your GMC Sierra.
Additionally, keep in mind that some vehicle models may require special consideration or measurement requirements when selecting covers. Make sure to read reviews or reach out to experts if you need assistance along the way. With these tips in mind and some careful consideration, you should be able to find top-notch seat covers that will make sure your ride is comfortable, stylish and protected!
FAQ's
What is the best material for seat covers?
The best material for seat covers can vary based on individual needs and preferences. Some popular materials include leather, vinyl, neoprene, and polyester blends.
How do I choose the best car seat cover?
When choosing the best car seat cover, consider factors such as the material, fit, color, durability, and ease of installation and maintenance. It's also important to consider your specific needs and preferences.
What is the best material for seat covers 4wd?
The best material for seat covers in a 4WD can depend on factors such as climate, intended use, and personal preferences. Some good options to consider include neoprene, canvas, and polyester blends.
What is the best fabric for truck seats?
The best fabric for truck seats can depend on factors such as durability, comfort, and ease of maintenance. Some popular options include denim, canvas, and leather.
Which car seat cover is better fabric or leather?
The choice between fabric and leather car seat covers ultimately comes down to personal preference. Leather is typically more expensive but can be more durable and easier to clean, while fabric may offer more comfort and breathability.
What is the most durable seat fabric?
Vinyl is often considered the most durable seat fabric, as it is resistant to stains, spills, and general wear and tear. However, it may not be as comfortable as other materials.
Is vinyl more durable than leather?
Vinyl is generally considered more durable than leather, as it is more resistant to stains and wear. However, leather may be more comfortable and offer a more premium look and feel.
Which seats last longer cloth or leather?
Leather seats can often last longer than cloth seats, as they are more resistant to wear and tear. However, proper maintenance and care can help extend the lifespan of both types of seats.
Which is better fabric or leather?
It depends on personal preference and the intended use. Leather is more durable and can last longer, but fabric is often more affordable and easier to clean.
Which is more comfortable fabric or leather?
Again, it depends on personal preference. Leather can be stiff at first, but it can also mold to your body over time. Fabric is often softer and more breathable, which some people find more comfortable.
See Also: