Are you looking for ways to customize and upgrade your Ram 1500 for a unique ride? Whether you simply enjoy the thrill of driving with a few accessories or need additional features, this article is perfect for you.
Discover the different accessories available to level up your Ram 1500, from interior updates to exterior renovations. Get ready to explore a complete guide on the must-have add-ons you need to consider!
Introducing the Ram 1500: the best small truck on the market. With its impressive power, unbeatable payload capacity and capable towing capability, this vehicle is one of the most popular and highly sought-after trucks out there.
With such great features already included on the Ram 1500, it can be daunting to think about adding additional accessories or add-ons. That's where this guide comes in. We'll take a deep dive into all the available extras you can get for your new Ram 1500, as well as provide helpful hints and tips to help make sure that you're getting exactly what you need out of your setup.
From suspension components to exterior parts, we've got all the information you need on what's available for your ride right here!
Exterior Accessories
For many drivers, improving the exterior appearance of the Ram 1500 is a major priority. But with so many exterior accessories options on the market, how do you make sure you choose the right ones for your truck?
When it comes to exterior accessories, there are endless possibilities. To help narrow down your choice and ensure that your Ram 1500 looks great after you've finished adding extra features, here are some popular exterior add-ons to consider:
-Bed Covers: A bed cover offers added protection against outdoor elements and prying eyes while also giving your vehicle a unique style. It's available in a variety of materials to accommodate different budgets — whether simple vinyl or more durable aluminum or fiberglass.
-Side Steps: Perfect for those who need easy access into their higher vehicles, side steps will ensure that getting in and out of your truck is safe and easy. Side steps come in styles that match different paint color choices and give your vehicle an extra boost when driving off-road or in rough terrain.
-Grilles: Make a statement with custom grilles for your Ram 1500! These not only improve the look of your vehicle but also offer protection from falls when driving off-road. They come in different finishes including chrome plated and black powder coated so you can be sure to find one best suited to compliment the paint job on your truck.
-Tip Guards: Tip guards give an extra layer of protection from clothing snags when entering and exiting on each side of the truck bed, as well as damage caused by loading items in and out. These custom guards fit snugly, preventing slipping during use all while blending seamlessly into existing factory lines for complete security without compromising on style.
Bed liners
Bed liners are one of the most common and effective items to purchase for the Ram 1500. Liners provide a protective layer between your truck bed and cargo, enabling you to load without worry of damage. Most Liners are made from rubber, plastic or carpet, so you can choose a product that suits your lifestyle and needs best.
To get the most out of your liner, you should periodically clean it with soap and water to keep it looking great and free of dirt, grime or residue. Additionally, with more high tech options available on the market, there are liners that come equipped with UV protection and antimicrobial coating to give extra durability in different climates.
Tonneau covers
The tonneau cover is just one of many accessories that can enhance the look and function of your Ram 1500. Tonneau covers are designed to bring you custom-fit protection, ease of use, and style all in one. There are several types to choose from, depending on your needs and interests.
One popular option is a soft top tonneau cover. These covers feature rugged yet lightweight construction with efficient storage capabilities. Soft tonneau covers offer protection from weather, wind and theft as well as aesthetic appeal for the vehicle's cargo area. On the other hand, if you have limited storage space for items that require frequent access, then a hard cover may also be an idea worth considering. Hard tonneau covers provide heavy-duty security for the cargo area and can be easily removed for hauling larger items or works great with most bed liners or rails systems – meaning you could even customize it with lights or graphics with ease!
Finally, there are also retractable style tonneaus that roll up to give maximum versatility while allowing easy access to any part of the bed without having to remove the entire unit – perfect if you're looking for a more useful sleeping/camping situation! What's more these come in both aluminum or softer fabric options that fit perfectly over rails systems making it more accessible than ever before!
No matter which type of Ram 1500 Tonneau Cover you decide upon – they guarantee improved aerodynamics and fuel efficiency while adding a touch of personalized style to your truck!
Interior Accessories
Interior accessories for the Ram 1500 can provide you with additional convenience, comfort, style, and storage. This section will help you find the perfect add-ons to your truck that upgrade or customize your interior in whatever way you desire.
Seat covers – You can protect and personalize your front and back seats with matching colors and fits when you get custom seat covers from the Ram specific catalogues.

Floor mats – Reduce wear and tear by protecting your vehicle's interior carpets from dirt, mud, and spills with these custom fit floor mats that are perfectly designed for the Ram 1500 cab space. Choose from one of three colors to match your interior style!

Door Sills – Replace dull factory door sill plates with illuminated ones with a touch of class. The easy-to-install plate comes in four colors that provide extra protection against scuffing while providing extra illumination inside the cab when entering or exiting.

Dash Mats – Keep sun glare off of your dashboard while making sure important information like audio systems remain discernible by installing a custom fit dash mat in any available color of fabric!
5 Interior Trim Packages – Add even more luxurious touches to an already spacious Ram 1500 cabin with these add-on trim packages made specifically for its interior space made from chrome accents or woodgrain finishes.
Floor mats
Floor mats are a great way to provide protection for your Ram 1500's interior flooring. Whether you're looking for a set of all weather mats or one to better match the interior look or color of your truck, there are a variety of floor mats available to fit the appearance, comfort and durability that you need.
All-weather floor mats are designed to be custom-fitted and made from durable materials designed to protect against dirt, mud and other debris, while adding style and comfort to your truck's interior. Many Floor mat kits also provide added protection with anti-slip surfaces, helping keep driver and passenger feet in place while driving.
Other custom accessories like Ram logo mats can add additional branding elements in the cab while offering additional comfort and protection from spills or stains that can occur from regular wear-and-tear.
Seat covers
Seat covers are an excellent way to add personal style and protect against wear-and-tear. They can be easily installed, and they also come with headrest covers, armrest covers, or console covers. Vinyl seat covers can provide a smooth look while fabric might be more comfortable for extended periods of driving.
Make sure that you get pieces that have been specifically designed for your make and model of vehicle. This will ensure that everything fits snugly in the right places. Be sure to check the measurements before you buy to avoid returns or exchanges later on.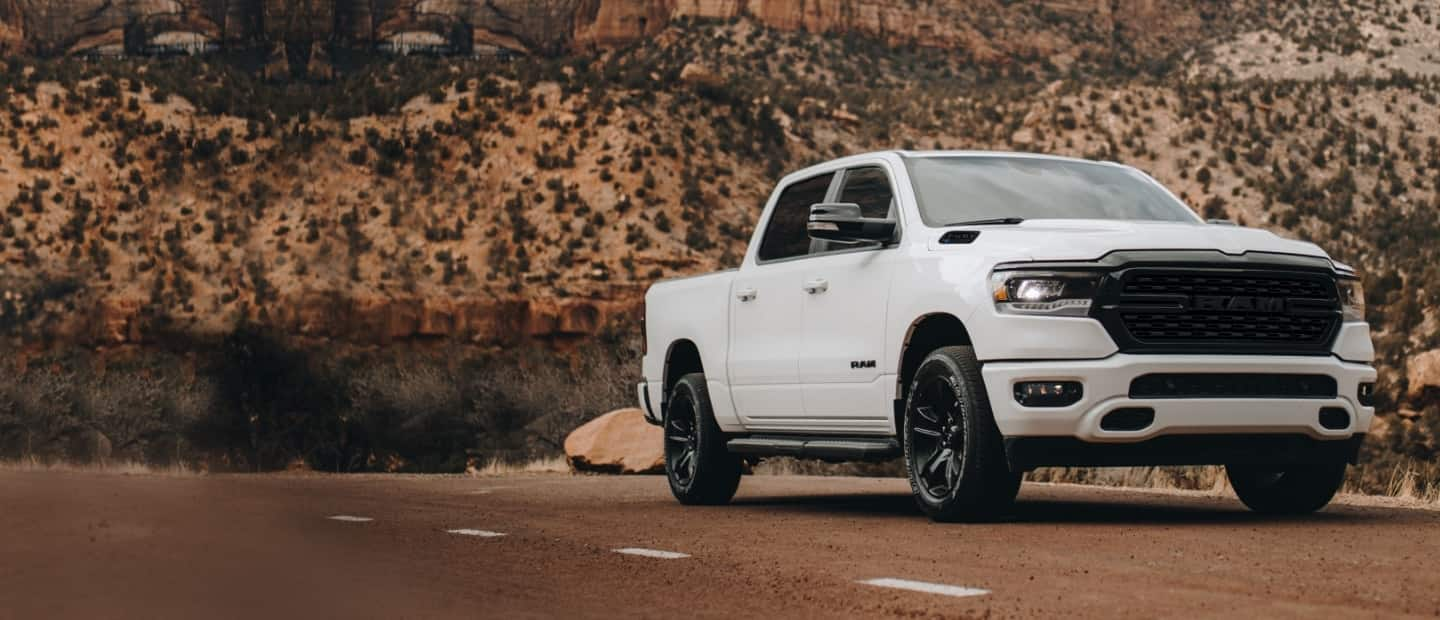 Performance Accessories
Performance accessories for your Ram 1500 are an excellent way to customize and get more out of your vehicle. From exhaust systems and air intakes to brakes, power steering, and racing stripes – there is an accessory for every performance need. Here are just some of the popular options available:
Exhaust Systems and Air Intakes: Installing a new exhaust system or air intake can significantly increase engine performance and give you great sound. Exhaust systems come in different styles such as cat-back, turbo-back, dual side exit and many more depending on what you're looking for. Air intakes are designed specifically to increase horsepower output by allowing more air into the engine.
Brakes: Upgrading your brakes is especially important if you spend time on the track or if you're going to be increasing performance output from your engine. Performance brake kits provide increased responsiveness, improved stopping distances, better feel at the pedal, cooler temperatures in extreme driving conditions as well as a stylish look that lets everyone know you mean business.
Power Steering: If your Ram 1500 doesn't have a power steering upgrade already installed it's definitely worth considering one of these accessories. Power steering components reduce drag on the engine by allowing them to channel energy into tire grip rather than lost through mechanical pushing force. With upgraded power steering pumps and lines delivered with less effort from the driver power gains can be significant resulting in improved handling dynamics on tight turns around tight curves along with smoother overall control over longer distances during highway cruising.
Racing Stripes: For drivers who truly want to make their ride one-of-a-kind custom racing stripes are an option that won't break the bank but adds nice subtle visual flair quickly (within a few hours) which can then easily be removed when desired down the line without leaving any residue or adhesion behind.
Air intake systems
Air intake systems are designed to improve airflow into a vehicle's engine. This increased air flow helps enhance the engine's performance and power. Installing an aftermarket air intake system on your Ram 1500 will give it more horsepower and torque, allowing you to take full advantage of its engine power. Additionally, an aftermarket air intake system will increase your Ram 1500's fuel efficiency, cutting down fuel consumption.
Types of air intakes: There are four basic types of air intakes: open pod, closed-end pod, short ram and cold air intakes. Each type works differently to draw in more cool and dense air into the engine.
Open Pod systems have an exposed filter that's connected directly to a funnel-shaped heat shield over the filter element. Open pod systems allow for greater overall airflow because they don't have any piping obstructions like other intake systems do, such as a closed-end pod system or short ram intake.
Closed-End Pod Systems feature a metal housing with an enclosed filter inside which helps contain any suction created by the engine during operation The housing itself reduces the amount of engine heat that reaches the filter element resulting in cooler air being drawn into the engine for improved performance compared to open filters which can draw more hot exhaust gases into the air filter than normal airflow would allow.
Short Ram Intakes place their filters much closer to the engines than open or closed-end pod systems, making them ideal in cars where extra space is limited underhood. They require less tubing than other types of intakes so they're able to be mounted in tight spots without sacrificing much performance gain or putting extra stress on components like hoses and couplings due to their length or bends required for installation.
Cold Air Intakes produce cooler, denser air than normal since it pulls from outside sources instead of coming from hot exhaust manifold gases along with relatively higher static pressure compared to other types of intakes which reduces backpressure on internal components within an engine resulting in improved total power output.
Exhaust systems
Exhaust systems are used to improve the performance of your vehicle by increasing airflow and efficiency throughout the engine. There are a wide range of styles and options available for the Ram 1500, so it is important to be well-informed before making a purchase.
A single side exhaust system is typically best for stock or lightly modified vehicles, as it improves both sound and power slightly without adding considerable cost or compromising other aspects of your truck. A dual exhaust system offers greater performance gains with smoother sound, but may require additional space due to the two tips pointing out from either side of the vehicle. Cat-back systems remove all stock piping from after the catalytic converter and replace it with two stainless steel tubes that offer fewer restrictions and deeper tone but will not significantly increase output until further modifications such as a Performance Chip are added. The most extreme option is likely an exhaust header swap involving replacing the full exhaust manifold for larger diameter tubing to maximize flow; however, this is a more expensive route than most may want to take given its specialized purpose.
If you're looking to get started on upgrading your Ram 1500's exhaust system, be sure to do extensive research on the different systems available in order to find what best fits your preference and budget. An avid car enthusiast could opt for a full header swap while those on tighter budgets could make do with just cat-back single side solutions in order to reach their desired performance level without breaking the bank.
Electronics Accessories
When you own a Ram 1500, you often want to accessorize it to make it your own. There are so many possibilities out there and it can be hard to decide what is right for your specific needs. A great place to start the shopping process is with the electronics accessories available for your Ram 1500. Here are some add-ons that you might want to consider.
GPS Navigation System: With this useful system, you can find your destination faster and safer. Many GPS systems integrate seamlessly with smartphones, Bluetooth kits, and other connected devices for an easy and hassle-free experience on your Ram 1500 journey.
Wireless Charging System: This accessory allows you to charge any compatible device in the interior of your vehicle without having to plug it in or continually place and unplug cords from or into the charging port. The wireless charging system works with iPhone, Android devices, Bluetooth headsets, Apple watches, etc., so you can always stay powered up during short or long trips in your truck.
Remote Start Interface: This interface turns convenience into reality by letting users start their vehicles using their smartphones or keyfobs at will — perfect for those times when weather conditions make getting into a cold cabin intolerable! Installing this interface can also set off active alarms when doors open without authorization and alerts owners of potential intrusions when security protocols are activated remotely.
Audio accessories: Enhance the entertainment options on board your Ram 1500; with audio add-ons like subwoofers and speakers –– regardless of the original sound quality –– even an aging audio system can be brought back to life with crystal clear sound quality that will please even audiophiles! Customized sound can also be achieved with car integration systems like Android Head Units that allow owners and passengers alike easy control over their installed audio assets!
Backup cameras
Backup cameras are a common add-on for Ram 1500 trucks. They provide a view of what is behind your truck when you reverse, and they can be especially handy when backing up in tight spaces or eliminating blind spots.
Backup cameras also give you control of angles through the display on your dashboard to make sure you can see as much as possible when reversing. Some backup camera systems also include motion sensors or ground guides, which alert you if your truck is too close to an object when in reverse.
Navigation systems
Navigation systems are a great add-on for your Ram 1500. They provide you with up-to-date maps, directions and other information like points of interest and traffic conditions. Many navigation systems also include voice recognition that allows you to input your destination without taking your focus off the road.
There are multiple types of navigation systems available for the Ram 1500, from basic GPS units to full-featured systems with real-time traffic updates, hands-free calling capabilities, Bluetooth capability and more. Consider researching the various features offered by these systems and ensure that it meets your specific needs before investing in one.
Adding a navigation system can make driving easier, safer and more enjoyable than ever before.
Conclusion
After reading through this guide, we hope our readers have gathered a better understanding of all the accessories and add-ons available to customize your Ram 1500 to exceed your needs. Ultimately, you want to choose pieces that fit both your lifestyle and budget.
Not all add-ons may be necessary for everyone, so carefully weigh what you might gain from an accessory before investing in it. Your Ram dealership can help you find out which accessories are compatible with your modified pickup truck so take them into consideration when making your choices!
FAQ'S
What are the different RAM 1500 packages?
There are several RAM 1500 packages, including the Tradesman, Big Horn, Laramie, Rebel, Limited, and more.
What is included with the built to serve RAM 1500?
The built to serve RAM 1500 includes unique exterior and interior design elements, as well as special badging and other features.
What are the major differences between the RAM 1500 and the Ram 1500 Classic?
The RAM 1500 is a newer model with updated features and technology, while the Ram 1500 Classic is an older model that is still available with fewer updates.
What are the Dodge Ram packages?
Dodge Ram packages include various trim levels and special editions, such as the Rebel, Laramie Longhorn, and Limited.
What is the appearance package on RAM 1500?
The appearance package on the RAM 1500 includes various exterior design elements, such as black accents and upgraded wheels.
Is Ram 1500 a luxury?
The RAM 1500 can be considered a luxury vehicle, especially in higher trim levels with premium features and materials.
What is the most popular Ram 1500 model?
The most popular RAM 1500 model varies by year and region, but the Big Horn and Laramie trims are often popular choices.
What is the highest package on a Ram truck?
The highest package on a RAM truck is typically the Limited trim, which includes premium features and materials.
What is RAM luxury car of the year?
RAM has not been named luxury car of the year, as it is primarily known for its trucks.
What is the highest RAM trim?
The highest RAM trim is typically the Limited, which includes premium features and materials.
See Also :