Are you looking for ways to keep your Jeep Gladiator in top shape? This guide reveals the importance of an air filter and how it can help protect your car's engine.
You'll learn how the right filter can make a massive difference in the overall performance and health of your vehicle. So read on to find out more!
For drivers of a Jeep Gladiator, one of the most essential components of ensuring optimal performance, fuel efficiency, and longer vehicle life is the air filter. An air filter serves to keep clean air flowing through the vehicle's engine and other related systems, as well as prevent dust and other airborne particles from entering the motor.
While Jeeps are built to handle exposure to harsher environments than many vehicles on the road, it is still critical that all Jeep owners ensure their Gladiator's air filters remain clean at all times.
This guide will provide an overview of how an air filter operates, the importance of regularly replacing or cleaning them, and how finding the correct fit for your particular model can keep your Gladiator running at optimal levels for years.
Function of an air filter
An air filter installed on your Jeep Gladiator plays a vital role in keeping your engine healthy. The air filter is the first line of defense against dust and other environmental factors that could potentially cause catastrophic damage to the internal components of your engine. A clean air filter ensures that any pollutants, dirt particles, and other debris are trapped before they are drawn into the engine.
A clogged or restricted filter will not only allow dirt to enter the engine but can also reduce airflow, reducing performance and fuel economy. Additionally, it can lead to premature failure of internal components due to wear caused by dirt passing through the system.
Keeping a properly maintained air filter on your Jeep Gladiator is essential maintenance for optimal performance, fuel efficiency, and lifespan of your vehicle's engine.
Explanation of how an air filter works
A Jeep Gladiator air filter is an essential part of your vehicle's engine and HVAC system. It helps the engine to perform optimally by filtering out any dirt, debris and other contaminants that are present in the air, thus preventing them from ending up in your engine and causing damage. Additionally, it helps to improve the efficiency and performance of your vehicle's HVAC system by safeguarding it from any airborne particles.
Dirty air filters can affect the performance of both parts of your car, leading to reduced fuel efficiency, power delivery problems and a decrease in overall comfort levels. This is why it's important to keep an eye on them and replace them when needed. To do this, you need to know how they work so you can identify when they need replacing:
An air filter works by trapping and blocking contaminants as they flow into your engine or HVAC system. The tiny pores in the filter are designed to catch large particles such as dust and pollen while letting fine particles pass through with relative ease – ensuring that only clean air enters your car's vital components. Over time however, these filters become clogged up with dirt, dust and other contaminants, reducing their effectiveness significantly – which is why they need replacing at regular intervals.
Importance of a clean air filter
It is important to have a clean air filter for your Jeep Gladiator to ensure optimal engine performance. The purpose of the air filter is to keep dirt, dust and other contaminants from entering the engine, where they can cause serious damage. The filter also helps reduce hydrocarbon and nitrogen oxide emissions from the engine and prevents excessive fuel buildup in the intake system.
The air filter works by collecting dirt, dust and other particulates in its mesh-like structure and preventing them from entering the engine. Over time, however, these contaminants can start to accumulate on the filter leading to reduced airflow into the engine cylinders. This reduces the efficiency of your engine overall as it won't be able to draw in enough air for efficient combustion. It also lowers fuel economy due to reduced intake flow, which leads to higher emissions output.
Replacing your air filter regularly is essential for maintaining proper performance and fuel economy of your Jeep Gladiator. Not only will it help keep dirt out of your engine that can damage internal components; it will also help reduce harmful emissions into our atmosphere by reducing hydrocarbon and nitrogen oxide exhaust discharges.
Signs of a dirty air filter
It is important to watch for signs of a dirty air filter in order to ensure that your Jeep Gladiator is running as efficiently and safely as possible. There are a few symptoms which can indicate that it may be time to replace the air filter. One sign is difficulty in starting or slowing down the engine. If the fuel economy of your engine has decreased significantly, this could be an indication of an overworked air filter, due to the fact that replacing your air filter can improve fuel economy up to 10%.
Other signs include black smoke exiting the tailpipe, as this indicates that unburned fuel is being released from carbohydrates present in the dirt from the old, clogged filter and also strange odors coming from under the hood. These would most likely be created by chemicals and impurities that have built up upon contact with particles coming through a clogged air filter which has become saturated.
Constantly check your vehicle's air filters by feeling them- if they feel more rigid than normal, it's time for a change!
III. Factors to consider when choosing an air filter
A good air filter is essential for any Jeep Gladiator, as it can improve the performance of your vehicle and ensure it remains healthy and fuel-efficient. When choosing an air filter for your Jeep, there are several factors to consider. These include the type of filter, its size, design, material and the frequency with which it needs to be replaced.
The type of filter you need will depend on whether or not you use a cold air intake or a closed-system intake system. Cold air intakes use an open-air design that pulls relatively cool air from outside of the engine compartment for improved performance. A closed-system intake system, on the other hand, pulls warmer air from within the engine compartment to reduce friction and improve fuel economy. Both types require a different type of filter to work efficiently — either a conical-shaped cone filter or a flat panel filter — so make sure you buy one that's suitable for your type of intake system.
When it comes to size and design, opt for an option that fits correctly into your vehicle's engine compartment — if the filter is too big or too small it won't be able to do its job properly — and make sure you check it monthly for signs of wear or tear like cracking or tears in order to maintain peak efficiency.
Finally, factors like material and frequency of replacement should also be weighed when choosing an air filter — some materials will last longer than others (paper filters typically last between two to three months) while more expensive filters may require less frequent replacement (typically around 6-12 months). Ultimately, finding one with higher filtration capabilities can result in more reliable filtering performance over time, but bear in mind that all filters eventually need replacing regardless of how expensive they are!
Performance
Performance is an important factor to consider when selecting an air filter for your Jeep Gladiator. The filter's construction and quality can impact your overall driving experience. High-performance filters will allow greater air flow than standard filters, providing improved performance.
High-performance air filters also provide a cleaner, more consistent fuel/air ratio, which can result in better responsiveness and power. Air filters that use increased surface area and more pleats provide better filtration, resulting in longer engine life due to less debris reaching the engine's combustion chamber.
All these characteristics help to improve your Jeep's overall power and torque.
Durability
One of the main benefits of an air filter is its ability to protect your Jeep Gladiator engine from dust and other contaminants that can damage it. Depending on the type of air filter you use, it will provide varying levels of protection. Fortunately, most aftermarket air filters are designed with durability in mind, so they are able to withstand more intense conditions than you might think.
When selecting an aftermarket air filter for your Jeep Gladiator, make sure it's made from high-grade materials. Materials like cotton gauze or paper can provide impressive filtration properties and last for a longer period of time without needing to be replaced. Additionally, look for a filter that has been re-oiled or one that is pre-oiled with a quality oil such as K&N or Mobil1 synthetic oil. This will help ensure that the filter gives optimal performance and lasts as long as possible without needing to be changed out frequently.
Aesthetics
When it comes to improving the aesthetics of your Jeep Gladiator, an air filter is one of the simplest, most cost-effective ways to do so. Not only do they help reduce dust, dirt, and other airborne particles from entering your engine, but they also make your vehicle look sharper and more stylish.
Air filters are available in a variety of shapes and sizes to suit any Jeep Gladiator's style. They come in both stock size and aftermarket sizes with distinct patterns on them like Silver Mesh or Diamond Holes for a custom look. Installing an air filter can give your ride a more aggressive stance while adding some character to the engine bay all at once.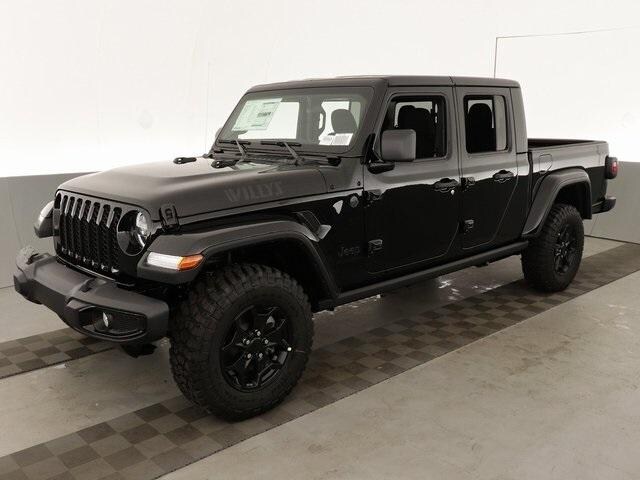 Benefits of using an air filter
Having an air filter installed in your Jeep Gladiator is especially beneficial when off-roading. The combination of dirt, dust, and other elements that encounters your vehicle's engine when you go off the beaten path can often cause performance issues if the proper protections are not in place. By utilizing an air filter designed for your specific Jeep Gladiator, you can protect its engine from all of the harshness and hazardous particles it may encounter. The following are some of the key benefits to installing an air filter on your Jeep Gladiator:
1) Improved Engine Performance – An aif filter limits the amount of airborne dirt and dust particles entering into your engine, thus allowing it to breathe better and perform at its peak capacity.
2) Extended Engine Lifespan – By allowing only clean air to enter into your engine, you significantly decrease risks of premature failure due to dirt accumulation on internal components or other debris entering inside.
3) Increased Fuel Efficiency – When excess dirty air enters the combustion chamber it reduces a vehicle's optimal power output— meaning it has to work harder in order to achieve a desired level of performance. With a high-quality aftermarket filter for our Jeep Gladiator, you can finally increase gasoline mileage by properly regulating how much unfiltered air is entering in conjunction with combustible fuel during operation.
Protects the engine from damage
A properly working air filter is essential to preserving the life of your Jeep Gladiator's engine. Without a quality air filter, the engine is exposed to unfiltered air that can become full of dust and debris, leading to severe problems.
A dirty or clogged air filter restricts how much air enters the engine, causing poor fuel efficiency and poor overall performance. It can also contaminate other parts in the engine, leading to costly repairs down the line.
An unrestricted airflow is critical for your vehicle's optimum performance and reliability. By frequently replacing or cleaning your Jeep Gladiator's air filter, you can help ensure that it remains running in optimal condition for years to come.
Improves fuel efficiency
Improving your Jeep Gladiator's fuel efficiency can have a huge impact on your wallet. A quality air filter can help to reduce the buildup of debris in the engine, allowing your Jeep to run more effectively with less fuel consumption. By trapping dirt, dust, and other contaminants, an air filter helps to keep the airflow unimpeded and optimizes combustion which leads to improved performance.
The improvement in fuel economy often becomes even more significant over longer journeys or frequent travels on unpaved roads. This can lead to significant cost savings due to lower costs of gasoline when compared with regularly replacing a worn-out air filter. In addition, avoiding unnecessary stop-offs for gas gives drivers more time and convenience while navigating their trips.
Enhances performance
Most Jeeps come with a large open engine compartment with a very minimal amount of insulation. This means that your engine's efficiency isn't maximized, because it is constantly operating in excessive heat.
Installing an air filter helps to capture dirt and impurities before they reach the intake system, giving your engine some extra protection from grime, dust and other contaminates which can reduce its performance efficiency. Additionally, an air filter helps reduce power loss due to turbulence in the combustion chamber by stabilizing incoming airflow.
With improved airflow, you can experience increased acceleration and better fuel efficiency while driving your Jeep Gladiator.
Conclusion
In conclusion, the Jeep Gladiator requires a dependable air filter in order for it to run reliably and efficiently. By regularly checking and replacing the air filter, you can ensure that your vehicle will continue to perform optimally for years to come.
By investing in a top-quality air filter, you will be able to enjoy many years of trouble-free driving without any added stress or cost. With the right care and maintenance of your Jeep Gladiator's air filter system, you can make sure that your vehicle remains at its best.
FAQ's
What does a Jeep air filter do?
A Jeep air filter prevents harmful particles and debris from entering the engine and helps to keep the engine running smoothly.
How often do you change the air filter on a Jeep Gladiator?
It is recommended to change the air filter on a Jeep Gladiator every 20,000 to 30,000 miles or as advised by the manufacturer.
Can you drive a Jeep without an air filter?
It is not recommended to drive a Jeep without an air filter as it can cause damage to the engine by allowing dirt and debris to enter.
Does removing air filter increase power?
Removing the air filter can potentially increase airflow to the engine and improve performance, but it can also allow harmful particles and debris to enter the engine and cause damage.
How long does a Jeep air filter last?
The lifespan of a Jeep air filter can vary depending on driving conditions and the type of air filter used. Generally, it is recommended to replace the air filter every 20,000 to 30,000 miles.
How do I know if my air filter needs replacing?
If the air filter is dirty or clogged, it can cause a decrease in engine performance, reduced fuel efficiency, and unusual engine noises. Checking the air filter regularly and replacing it if necessary can help prevent these issues.
Does a Jeep Gladiator have a cabin air filter?
Yes, some models of the Jeep Gladiator have a cabin air filter that helps to filter the air that enters the interior of the vehicle.
How much does it cost to replace an air filter in a Jeep?
The cost of replacing an air filter in a Jeep can vary depending on the type of filter and where you have it replaced. Generally, the cost can range from $20 to $50.
Does air filter increase performance?
A clean and properly functioning air filter can improve the performance of an engine by allowing more air to flow to the engine, which can result in improved acceleration and horsepower. However, a new air filter will not significantly increase performance beyond what the vehicle was designed for.
Does air filter affect performance?
Yes, a dirty or clogged air filter can negatively affect the performance of an engine by restricting the flow of air to the engine. This can result in decreased acceleration, reduced horsepower, and decreased fuel efficiency.
See Also-