Are you looking for the perfect accessories to complete your Chevrolet Silverado 1500? Do you need expert guidance to pick out the right add-ons for your ride? You're in the right place!
This comprehensive guide by REV Car Parts reveals all necessary accessories for your Chevy Silverado truck so you can find the perfect fit.
Buying a Chevrolet Silverado 1500 is an investment, and it's important that you get the most out of your purchase with the right accessories. From upgraded wheels and tires to suspension and cargo storage solutions, there is a wide range of products available to enhance your truck.
In this guide, we'll provide a comprehensive look at the must-have accessories for the Chevrolet Silverado 1500, explaining why they are essential, how they can improve the practicality or performance of your truck, and which brands offer the highest quality products.
From roof racks to mud flaps, we'll explore each product in detail – so you'll know exactly what will be best for your needs. We'll also take a look at some more specialized products such as integrated winches and skid plates to protect vulnerable components from damage during off-roading adventures.
Explanation of Shock Absorbers
Shock absorbers are essential to ensure a safe ride as they control the vehicle's weight transfer in response to changes in terrain and speed. The shock absorbers on your Chevrolet Silverado 1500 act as dampers and keep the tires on the ground, reducing body roll, preventing it from swaying side to side and helping you maintain control of your truck. When choosing shock absorbers for your truck, it is important to consider the terrain you're likely to encounter. Many brands offer shocks for a variety of terrains, such as gravel or heavy-duty dirt roads.
Shocks that are specifically designed for drag racing offer increased responsiveness during acceleration and braking, while off-road performance shocks can be expected to handle extreme conditions with ease. The reservoir types of contemporary shock absorbers serve two major functions: they allow more fluid per cycle while dissipating heat more quickly resulting in increased performance and life expectancy; second, they bring a huge improvement in ride comfort resulting in enjoyable suspension feel with better absorption characteristics even on demanding terrain.
Upgrading your Chevrolet Silverado 1500's stock shocks will improve its overall driving performance and provide better road handling abilities making your daily commute much safer. Make sure you do some research before purchasing new shocks for your vehicle in order find best quality products that will meet your needs exactly.
Importance of Choosing the Right Shock Absorbers
Shock absorbers are an important consideration for any vehicle, particularly in the case of the Chevrolet Silverado 1500. The key to a smooth ride, regardless of the terrain and load your truck is carrying, is shocks. Your pickup may come with shock absorbers already in place, but it's important to consider replacing them with a higher quality product if you're planning on any off-road driving or heavier-than-usual lifting and towing. Those who are experienced in their trucks will appreciate the differences that new shocks can make.
When selecting new shock absorbers, there are several factors to consider. Make sure you know how much weight your truck typically carries―whether it's additional passengers or off-roading equipment―and look for shocks designed specifically for your needs. Also consider whether adjustable rear shocks with multiple settings that enable you to fine tune the shocks based on conditions and loads may be appropriate for your driving style. You should also consider consulting with a knowledgeable professional before making specific purchases so that you know which type of shock absorber best suits your truck's load capacity and anticipated use.
Overview of the Guide
This guide was created with the purpose of providing comprehensive information to car owners interested in outfitting their Chevrolet Silverado 1500. This guide will first outline the different components needed to enhance your pickup truck and then discuss some additional details pertaining to each part. To get the most out of your truck, it is important that you understand each aspect and how they work together in order to make an informed decision on which accessories will best suit your individual needs.
In this overview, we will cover: the essential components of an aftermarket buildout, how to pick the right parts for your specific vehicle make and model, how to ensure proper fitment, and how installation of aftermarket parts may affect vehicle warranties. Understanding all this information before taking on a build project can simplify a process that otherwise may require making multiple trips or changing plans throughout as unforeseen issues arise. Ensuring that you have the necessary knowledge beforehand can save time, effort, and money!
Factors to Consider When Choosing Shock Absorbers for Chevrolet Silverado 1500
When choosing shock absorbers for your Chevrolet Silverado 1500, there are a few factors to consider. The most important factor is the suspension system type of your vehicle. Shocks differ based on the weight and performance characteristics of the vehicle. For instance, an off-road vehicle that experiences a lot of rough terrain should have high-performance Kevlar or a gas shock absorber system, whereas a regular passenger-vehicle might benefit from polyurethane.
You should also consider the types of surfaces you typically drive on – if road conditions are often poor, you'll need a tougher shock absorber system than if you drove mostly on smooth roads. Additionally, make sure to look at product reviews and recommendations online before making a purchase. This will help ensure that you get the right shocks for your specific applications and needs.
Type of Driving
Driving is central to the Silverado 1500 experience, so it's important to consider the type of driving you do most often. Different types of driving require different accessories and modifications in order to ensure maximum comfort, performance and safety. Below are some of the main types of driving that might require unique accessories or modifications for your Silverado 1500:
Off-road: For drivers who often venture off the paved roads, specialized tires, skid plates, heavy duty shocks and lighting systems can provide increased traction and better protection against terrain hazards.
Performance: Drivers wanting to customize their Silverado 1500 for racing or solo track days may opt for lighter weight upgrades that help reduce weight transfer while also increasing aerodynamics. Potential performance upgrades include a lightweight wheel set, a high-flow air intake system and performance suspension components.
Towing/hauling: Towing is one of the most common uses for a truck like the Silverado 1500. To ensure smoothness and control when hauling heavy loads or pulling a trailer, there are specific parts designed for this purpose including tow hooks, supporting hardware such as hard mount hitches and load levelers, as well as brakes designed specifically for heavier loads.
Load Capacity
For an optimal performance, be sure to check the maximum load capacity of your Silverado 1500. This will depend on the engine size and drivetrain configuration, as well as optional trailer ratings or other extra packages purchased.
While every Silverado 1500 is tested to its limits in the factory, you want to make sure that it's able to support the weight of any items you plan on hauling in or attaching to the truck. According to Chevrolet specifications, some Silverado models can support up to 3,123kg (6,900 lbs) when properly equipped with a 6-speed automatic transmission and V8 engine. Other drivers opt for special equipment packages that maximize their load capacity up to 6 thousand pounds (3 tons).
When loading cargo and equipment onto your vehicle, make sure that you're not exceeding its recommended capacity. Overloading can cause serious damage, not only for your vehicle but also for whatever cargo is being transported.
Suspension System
When heavy loads are placed in the bed of your Chevrolet Silverado 1500, you'll want to ensure that your suspension system is up to the task. Adding a suspension system to your truck is a smart way to protect the frame and improve performance. Many systems come with shocks and springs, but air shock kits may also be an option for increased load capacity.
Air shocks generally provide more cushioning than steel options, making them adept at absorbing impacts from bumps or potholes on the road. You may also want to add heavier-duty sway bars or stiffer leaf springs or helper springs for improved power handling and stability when carrying heavy weight in the bed of your truck.
Installing quality suspension components will help prevent rock bottoming out on rougher terrain, making it easier to manage any load you need to tow around without sacrificing safety for performance.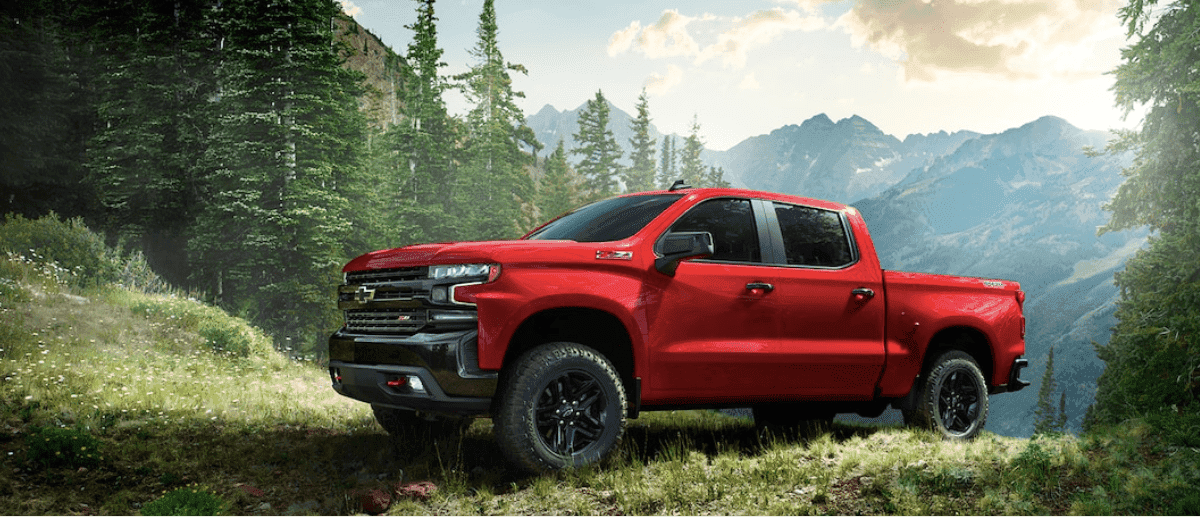 Budget
Whether you're looking to upgrade your Chevrolet Silverado 1500 or enhance its utility and style, there are plenty of budget-friendly accessories to choose from. Here are some of the most popular and affordable accessories that you can get for your Silverado 1500:
Interior Accessories – Adding interior accessories to your Silverado 1500 can not only give it a custom look, but can also add comfort and convenience. Popular interior upgrades include seat covers, floor mats, steering wheel covers, LED lighting kits and sun protectors.
Exterior Accessories – Exterior accessories like grille guards, side steps and mudflaps will help keep your truck protected from road debris and other external elements while giving it a sporty look. Other exterior upgrades include wraps, tonneau covers, bed liners and bed rails.
Functional Accessories – For a truck that's built to work smarter — as well as harder — functional upgrades like toolboxes, cargo carriers or roof racks enable you to maximize your hauling capabilities. You'll also find receiver hitches that allow you to hook up trailers or bike carriers with ease.
Brand
When purchasing accessories for your Chevrolet Silverado 1500, you should consider the brand. Brand names can make a huge difference in the quality and lifespan of your parts. Reliable brands like E. Brand often offer high-end yet affordable parts that are designed to last for many years after installation.
Brand offers a plethora of parts that are specifically designed for the Chevrolet Silverado 1500, including shock absorbers, air intake systems, exhaust systems, brakes and rotors, lug nuts and wheel hubs, suspension components and tires. All these parts are made from strong materials to ensure durability and maximum performance over time. Additionally, all these products come backed by a trusted warranty that guarantees against defects in both materials and craftsmanship for a period of two years after purchase.

Brand products provide excellent value for money because of their exceptional quality materials and intricate craftsmanship along with competitive pricing when compared to other brands on the market today. This makes them one of the most reliable options available when you're looking to replace or upgrade your Chevy Silverado 1500 with well-made yet affordable parts built to last through any hardship while delivering unbeatable performance on the road!
III. Installation and Maintenance of Shock Absorbers
Shock absorbers are integral components within a vehicle's suspension system, as they help to dampen vibrations that travel through the frame and improve driver comfort. Installing new shock absorbers can improve your driving experience and may also make it easier to traverse rougher terrain. Furthermore, regular maintenance of your shock absorbers is important for ensuring you remain safe on the roads and that you get the most out of your investment.
When it comes to installing replacement shock absorbers for the Chevrolet Silverado 1500 pick-up truck, be sure to adhere closely to manufacturer instructions. In most cases, installation will require basic tools and the assistance of a certified technician. Be sure that all nuts and bolts are tightened correctly during the installation process so that everything remains securely in place.
For maintenance of your shock absorbers, check each one regularly for signs of wear or damage, such as any visible tears or cracks on metal parts or excessive fluid build-up inside. Additionally, when examining your current shocks, be sure to check mechanisms such as hoses and clamps for corrosion or broken components which could lead to breakdowns when driving. If you find any issues, be sure to arrange a prompt replacement with an authorized Chevrolet mechanic in order to ensure reliable performance over time.
Installation Process
Installing new accessories for your Chevrolet Silverado 1500 can be a daunting task. Before beginning, it is important to understand the installation process and ensure that you have all the proper tools and parts needed. Additionally, it is important to take the necessary safety precautions to prevent any potential damage or injury.
To begin the installation process, first identify what type of accessory you are installing. Depending on the type of accessory, there may be specialized tools or parts required for installation. A few popular accessories for Silverado 1500 vehicles include seat covers, graphics kits, side steps & running boards, floor mats and off-road lights. It is important to recognize that all accessories may not fit every model, so double check your manual before ordering to ensure your product is compatible with your vehicle model.
Once you've made sure that everything needed is present and accounted for, you will want to familiarize yourself with the area in which you are working in order to make sure there are no unintended consequences or collateral damage resulting from the installation process (e.g., tears in leather seats if they weren't removed prior). Assemble all necessary parts and components before attempting an install so that nothing gets forgotten in the process. Finally, use caution when handling any drill bits or other items capable of causing physical harm such as sharp edges or plastic pieces that can easily break apart during assembly. It is wise to wear gloves when performing a setup as well as eye protection during any contact with metal parts or wires directly beneath a dashboard surface!
Maintenance Tips
While some Routine Maintenance items for the Chevrolet Silverado 1500 will vary based on how you use your truck, there are certain steps that should always be taken to keep your vehicle in peak condition.
Regular oil changes are essential in order prevent oxidative damage and wear on the engine components. It's also recommended that you check brake pads and tire wear regularly. Good brake pads are necessary for safety while proper tire pressure helps increase fuel efficiency.
Appropriate cleaning products should be used to keep your vehicle looking its best. Some traditional methods include waxing, polishing, buffing and washing on a regular basis with approved solutions like those provided by GM or through approved retailers.
If your truck is used in extreme winter or summer climates, a seasonal tune up is recommended to ensure peak performance when temperatures dip below freezing or rise into the 90s during summer months. Regular maintenance not only keeps you safe but it can help extend the life of your Silverado 1500 or any other vehicle you might own.
Conclusion
In this complete guide to must-have accessories for your Chevrolet Silverado 1500, we've covered the top products that you should consider when outfitting your truck. From essential exterior accessories to comfort additions and entertainment enhancements, there is no shortage of ways to customize your Silverado 1500.
No matter what type of accessories you're looking for, these items are sure to make your ride more enjoyable and help you get the most value out of your truck. Additionally, if you find that you need installation or repair assistance for these products, remember to consult with a certified technician at your local Chevrolet dealership.
FAQ's
How can I make my Silverado look better?
There are a variety of ways to improve the look of your Silverado: adding aftermarket body kits, changing the wheels and tires, custom paint job, installing a suspension kit, adding exterior accessories such as grilles, spoilers, and step bars.
What is the best year for a Silverado 1500?
The best year for a Silverado 1500 depends on the features and options desired by the consumer.
Is the Chevy Silverado 1500 a good truck?
Yes, the Chevy Silverado 1500 is a good truck. It has a reliable engine, great fuel economy, and offers a smooth ride.
Is the Silverado a luxury truck?
No, the Silverado is not a luxury truck. It is a full-size pickup truck manufactured by Chevrolet.
What model of Silverado is the best?
The best Silverado model depends on individual preferences. Features like towing capacity, engine power, pricing and safety ratings can be considered when selecting the best Silverado model.
What is the most iconic Silverado?
The most iconic Silverado is the Chevrolet Silverado 1500, the full-size pickup truck first released in 1999.
How long will a Silverado last?
A Silverado typically lasts between 150,000 to 300,000 miles depending on maintenance and other factors.
Is Chevy Silverado good or bad?
The Chevy Silverado is generally praised for its performance, interior features, and overall appeal. It tends to be a reliable vehicle with strong towing and hauling abilities. Thus, the Chevy Silverado is generally considered a good vehicle.
Why is Silverado better than Ford?
Silverado is better than Ford because it offers a more powerful engine, better handling, greater towing capacity, and enhanced safety features. It also has a more modern design and more advanced technology compared to its Ford counterpart.
Why are Silverados so popular?
Silverados are popular because they offer an impressive combination of power, affordability, and unrivaled towing capacity. They also come with many desirable features such as an impressive array of technology, good fuel economy, and a spacious interior for comfortable and safe driving.
See Also-